BIOGRAPHIES: SURNAMES BEGINNING WITH "H"
(To enlarge Biography, highlight, cut & paste to a document form. Highlight and select font setting)

HAMMEL, David born in Prussia November 26, 1838; married in 1863 to Lena Vogel, who was born in Prussia in 1840. They came to Appleton in 1866. Their children are as follows: Clara, born in September 1868; Leopold, born in May, 1870 and died in December, 1888; Stella born in March, 1872; Walter F. born in January, 1874; Gertrude born November, 1875; Celia born April, 1878; Samuel H. born in July, 1880, Leroy T. born in 1882. Occupation: Dealer in cattle and horses; office and stables on Oneida Street, next block north of the post office. residence; corner of North and Durkee Street, Appleton. Taken from The Outagamie County Pioneer Record.
HAMMEL, Jacob was born in Prussia in 1832 and came to Outagamie County in 1866. He was married to Julia Hammel in 1857. She was born in March, 1833. Their children are as follows: Leopold, born in 1858, Aaron born in 1860, Charles born in 1862, Philip born in 1864, Rachel born in 1865 (died February, 1888), David P. born in 1868; Aaron (sic) born in 1870, Selma H. Wirt Bender born in 1874. His occupation is a Drover for 33 years. Residence: 762 Durkee Street. Taken from The Outagamie County Pioneer Record.

HAMMOND, Joseph was born in Deerham, Maine on February 27, 1836 and came to Appleton in September of 1856. Four years later he graduated from Lawrence University. He practiced law in LaCrosse until 1870 and at present is engaged in real estate business in Appleton. July 27, 1863 he was married to Martha M. Stevens who was born October 13, 1837 in Kennebec, Maine. Their children are Harriet E., born October 1865, married to Professor D.P. Nicholson on June 25, 1896; Bertha M. born January 16, 1867, married to Arthur J. Stevens on January 21, 1891; Walter J. born May 10, 1870, married November 27, 1895. Taken from The Outagamie County Pioneer Record.

HANCHETT, James D. (Civil War) was born in 1841. He came to Outagamie Co. in 1869 and was married to Miss B.A. Gray in 1873. She was born in 1846. One child, Roy D. was born to them in 1880. Mr. Hanchett served two years in the War of the Rebellion in Company D, 147th Regt, New York Infantry; his present occupation is painting and he resides at 982 Appleton Street, Appleton. Taken from The Outagamie County Pioneer Record.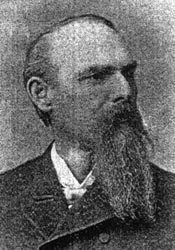 HARDACKER, Henry was born in the year 1847 in Outagamie County. He was married to Laura A. Black on June 19, 1878. She died July 26, 1887. Her children were Raymond K. Hardacker, born 1882, Alys L. Hardacker, born in 1887. He took for his second wife, Genevieve Sweister who was born in the year 1865. One child was the result of this union, a son Charles B. born in 1889. Mr. Hardacker's profession is that of physician and surgeon. His residence is on Mill Street in Hortonville. Taken from The Outagamie County Pioneer Record.

HARDACKER, Herman was born in the town of Ellington, Outagamie Co. in 1854.

HARRIMAN, Frank was born in Appleton on September 22, 1861 and has resided in Appleton ever since. He is a son of Joseph E. Harriman, who settled at Appleton in 1856 and resided there until his death in 1889. Taken from The Outagamie County Pioneer Record.

HARRIMAN, Joseph was born August 16, 1834 in Louisville, St. Lawrence Co., Kentucky. He came to Appleton in 1856 where he died in 1889. He was married to Celia Pratt Harriman in 1860. Their children are Frank W., born September 22, 1861, Fred E., Florian J., born in Green Bay, November 29, 1866, Flora L. Harriman Jones, born at Appleton, August 26, 1869.

HARWOOD, Frank was born in Crown Point, Essex Co., NY. on December 25, 1856; came to this state in March of 1874 and to Appleton February 15, 1876. Married to Harriet A. Harwood in Orleans Coutny, NY on January 24, 1882. Children, Ruth, born in Appleton on November 27, 1884; Anna P. born in Appleton December 11, 1887. Mr. Harwood has been engaged in the manufacture of woolens since coming to Appleton, first with Hutchinson & Co., but is now with Appleton Woolen Mills as general manager. His residence is north-west corner of Mead and South streets.

HAWTHORN, Chesley was born in 1849 and came to Outagamie Co. in 1859. He was married to Ellen Pegram in 1880. She was born in 1848. Their children are: Harry born in 1881, Grace born in 1883. Mr. Hawthorn is employed at a paper mill in Appleton and resides at 836 Prospect St., Appleton. Taken from The Outagamie County Pioneer Record.

HAWTHORN, Myra was born in 1860 in Grand Chute, Outagamie County, The Outagamie County Pioneer Record.

HODGINS, Patrick, is a native of Ireland and was born in 1826. He came to Outagamie Co. in April 1850 and settled on Section 31, T. 21, R. 17, now in the town of Grand Chute, where he resides. He was married in 1850 to Julia O'Hare, a daughter of Patrick O'Hare, an early settler who came to this county in 1848. The children of Mr. & Mrs. Hodgins are: Bridget, born in 1856, Mary born in 1854, Katharine, born in 1858, Sarah Hodgins Lowell, born in 1860, Hettie born in 1862, William, born in 1866, died in California in 1890, Joseph born in 1870 and Peter born in 1874, now in Colorado.

HOEFER, Fred (Civil War) was born October 1, 1847 in Dodge Co. WI and moved to Appleton in the fall of 1862; enlisted in Company G, Third Wisconsin Volunteer Calvalry in January 1864 and served 2 years, when he returned to Appleton and worked in a factory. November 2, 1872, he was married to Augusat Ronger. They had 7 children as follows: Thomas August born January 10, 1873, William Edward, born March 13, 1877, Oscar Harry, born March 25, 1878, Laura Philipine and Lawrence Ernest, twins born June 21, 1879, Margaret Louisa, born June 29, 1881. He was appointed to a position on the police force Aoril 15, 1877, which he held for 7 years, when he was elected sheriff and served 2 years. In the spring of 1877 he was reappointed on the police force as patrolman and served 4 years, when he received the appointment of city marshall and has held that position ever since. He resides at 831 Oneida Street.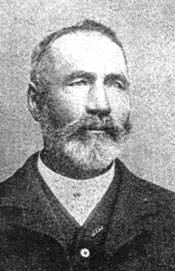 HOPKINS, Charles (Civil War) was born in Lincoln Co, State of Maine on July 4, 1824. He was the son of David Hopkins of MaineHis grandfather, Robert Hopkins came from the north of Ireland. He was a soldier in the Revolutionary War and served from the commencement of the war until the close and was with Arnold when he went through the wilderness in the winter to attack Quebec. C.W. Hopkins' father married Martha Trask in 1823 and they had 2 sons, Charles W. and David (who is now living in Maine). C.W. Hopkins married Helen T. Ledden in June of 1885; they had 6 children, 4 now living, 3 sons and 1 daughter. Mr. Hopkins came to Wisconsin in 1850 and settled in 1859 in Section 32, T. 23, R. 17, now in the Town of Black Creek, he being the first settler of that town. He was supervisor for 11 years and was postmaster at Binghamton 7 years, being the first postmaster of that place. Mr. Hopkins was a soldier in the Civil War and enlisted in First Wisconsin Heavy Artillery, October 8, 1864 and served until the close of the war. Mr. Hopkins sold his farm in Black Creek in 1895 and removed to Appleton, where he now resides. Taken from The Outagamie County Pioneer Record.

HULCE, Leander, with Lucinda K. Hulce his wife, moved from Waverly, NY to Fond du Lac county in 1847 and to Appleton in 1850, with their family consisting of 3 daughters, now Mrs. Ellen Hulse Richmond of Appleton; Mrs. Eliza Hulse Moore of Royalton, and Mrs. Rosalia Hulse Stage of Brothertown, WI. Mrs. Ellen Richmond was married in 1856 to Charles Richmond. They have 5 children of whom Charles Richmond Jr. lives in Lima, Ohio, Fort Howard Richmond lives in Marienette, Lou, Daisy, Kent and Will are at present living at home. Mrs. Eliza Moore has 4 children, two sons, Milton and Clarence Philips (by a former husband) and 2 daughters, Alice and Maude Moore of Royalton. Mrs. Stage has no children. Mr. & Mrs. Hulse have been dead many years. Mrs. Ellen Hulse Richmond resides at 775 Lawrence St, Appleton. Taken from The Outagamie County Pioneer Record.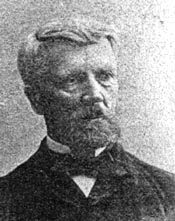 HUNTLEY, Daniel, was a native of New England. He was born October 10, 1827 and his early childhood years were spent in Weybridge, Addison County, VT. He came to this state in 1849, taught school in Dodge Co. one term, then came to Appleton where he taught the first public school in that city. In 1852 he returned to Vermont and was married to Helen M. Britell on November 9, 1852. She was the daughter of Orange Britell of Weybridge, VT and immediately after that came back to Appleton and taught school there and in other towns in Outagamie County until 1860, when the family moved to the farm in Grand Chute, where they now reside. They have had 8 children. Florence, who died at 8 years of age; Jerome B. a fruit grower in Marion, IN, Herbert B., a lawyer in Seattle, WA., Arthur O. a ranchman in Idaho; Flora and Fleta, twin daughters, the former a successful teacher, the latter is at home with her parents. two sons died in infancy. Mr. Huntley died October 6, 1897. Taken from The Outagamie County Pioneer Record.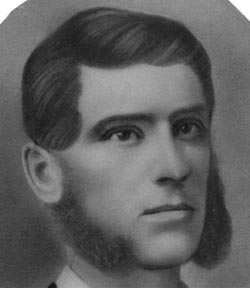 HUDSON, George -(Civil War) was born in Clayton (Jefferson County), NY in 1841. His parents were William Clark HUDSON and Catherine TIMMERMAN. George was the youngest child in his family and had 5 sisters and 2 brothers (all born in Jefferson County). George was living in Appleton, WI in 1880 and was found on the census with his two nephews, William and George BRYAN. George married Martha Bacon and moved to Britton, South Dakota about 1900. He died in Sauk Centre, MN in 1918. Submitted by descendant, Kathryn C. Bryan. (kc.bryan@worldnet.att.net)
HYDE, Welcome is a native of Vermont and was born in 1824. When a child he went with his parents into Ohio. At the age of 18 he was endowed with the privilege to do for himself. He drifted into llinois and attended Rock River Seminary for a year. Fotunately, he gained the confidence of a wealthy stock dealer, who took him into business. While there he became acquainted with Sarah Merckley and married her in the spring of 1846. She was born in Edgar County, Illinois in 1829. Soon after they emigrated to Fond du Lac, WI., where birth was given to two sons, Frederick M., November 15, 1846 and DeForest M., December 10, 1849. In 1850 they moved into the northwest corner of Outagamie Co., moving to the City of Appleton in the fall of 1866, where they now reside at 864 College Avenue. On the 25th day of December 1859, Francis Hyde, their only daughter was born. She was married in 1883 and gave birth to 3 children, 2 boys and 1 girl. November 11, 1873, she was called to leave her beloved children and participate in the treasures of eternity. Five weeks later, her little daughter followed her to the grave. The two boys are being brought up by their grandparents. Mr. Hyde's occupation is dealer in real estate. Taken from the Outagamie County Pioneer Record.














Home