BIOGRAPHIES: SURNAMES BEGINNING WITH "L"
(To enlarge a Biography, highlight, cut & paste to a document form. Highlight and select font setting)

LAIRD, Alexander, who has been closely identified with the agricultural interests of Outagamie county for a number of years, is now living retired on his fine farm in Ellington township, which is being operated by his son. He was born January 11, 1840, near Belfast, Ireland and received his education in that vicinity, although he had to leave school at the age of 14 years to take charge of the home farm, his father, William Laird, having died. When he was 17 years of age he left the Emerald Isle and came to the United States with his mother, brother and sisters, and from Fond du Lac, at which city the road stopped, the little party walked to Ellington township. The mother purchased land in Bovina township, Outagamie county and Mr. Laird worked on that property for 12 years. In 1868, Mr. Laird returned to Ireland, where he was married to Agnes Jamison, a native of that country and on their return to the United States they settled on Mr. Laird's present home in Ellington township. For many years Mr. Laird was engaged in mixed farming and dairying, but he has now given up active work and is living a quiet life, enjoying the fruits of his early labors. He has lived to see the country grow from a vast stretch of wilderness to a flourishing, prosperous country, and his own farm develop from so many acres of heavy timber to one of the finest farming lands in Ellington township. In 1906 he erected the present handsome residence and other good buildings that grace this tract. Mr. Laird has been a memebr of the township board for several terms. He and Mrs. Laird are consistent members of the Congretional Church, and have been the parents of seven children, namely: Elizabeth, Agnes, William L., Letta, John, Alexander and Katherine. Alexander Laird is now operating the old farmstead. Source: "History of Outagamie County."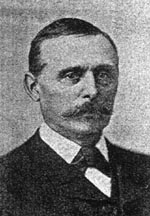 Picture is of William Lamure.
LAMURE, Joseph, was born in Canada; he came to Green Bay in 1815; came to this county July 15, 1839 and settled on the south 1/2 of lots 2, 3, 4, 5 and 6 in section 24; T. 21, R. 18 in Buchanan; was married in 1825 to Jane Derochier; they have had four children; two sons and two daughters. Their daughter Mary, married Michael Chevier. They settled just over the county line on section 1 in Harrison. Mr. Chevier died March 27, 1886; Mrs. Chevier died March 6, 1887. They leave four surviving children, two sons and two daughters. The two sons are Frank and Emery. The daughters married brothers named Hartsheim. William Lamure was born in Green Bay October 22, 1829; was married October 4, 1852 to Mary Louisa Porlier; they have had seven children, four sons and three daughters. First son, James W. Lamure born February 24, 1865. He practiced law in Chicago. Second son, Joseph Lamure born March 1, 1871. Third son Charles L. Lamure, born November 12, 1875. Fourth son, William R.H. Lamure, September 13, 1881. Their daughter Maggie M. Lamure born October 22, 1865 married to Mratin Speel November 28, 1882; they have three children. Hattie A. Lamure born February 2, 1863, married M.J. Farrell October 18, 1829 they have one child. Maria M. Lamure born November 28, 1873, unmarried lives at home. Jennie Lamure born November 1855 was married on December 18, 1882 to H.A. Decamp. Jennie died in the fall of 1888 and left two children. William Lamure now lives on Section 35 in Buchanan; has been supervisor of the town 21 years, served one term in the state legislature and is now a prominent citizen of the town. Resolutions of regret were passed by the students and faculty of Kent College of Law on the death of Professor W. Lamure, who was a member of the faculty of that college. He died at Kaukauna, February 22 after an illness of two months.Taken from The Outagamie County Pioneer Record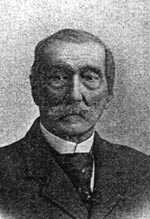 LAWE, George was born in Green Bay September 13, 1810; he settled in Kaukauna in 1839; his father John Lawe came from England and settled at Green Bay in 1797; George Lawe was married to Catherine A. Mead of Pennsylvania on March 25, 1835; they have one son and one daughter. The son, John D. Lawe, born September 17, 1837 was married to Mary Chapman; they have one son. Their daughter, Amanda Lawe was married to Captain D.J. Brothers in 1861; they have no children. Mr. Lawe at various times occupied positions of trust and responsibility under the United States and the state and has always discharged these trusts so as to gain the confidence of the entire community. In 1843 he was commissioned as Indian agent by President W.H. Harrison. He held this office, except for one short interval, untill 1852 and always discharged his dutites acceptably to both government and Indians. In 1849 he was appointed postmaster, but his duties as agent proving too arduous to admit of the double burden, he resigned. In 1878, he was again appointed postmaster and served until Cleveland's administratoin. He is now in his 89th year, hale and hearty, lives at Kaukauna and claims to be the oldest living Badger in Wisconsin. He was born in this state in 1810. Taken from The Outagamie County Pioneer Record.
LaMERES, William is a native of Illinois and was born in Cook County in February 12, 1857; came to this county with his parents in the fall of 1855; was married November 17, 1879 to Ida May Hogaboom who was born in Winnebago County October 4, 1857. Their children are Ida May, Earl Richard, Glen Williams, Jay, Vane, Ruth. Business: real estate and fire insurance. Residence: No. 9 Silver Street.Taken from The Outagamie County Pioneer Record.

LEITH, Cora A. was born in the year 1862. Taken from The Outagamie County Pioneer Record.

LENNON, James was born in Ireland in 1838 and when 11 years old he came to this country and settled in Outagamie County in 1852, where he has since made his home. He served in the Federal army for four years. He married Catherine Bellew in 1855. Children, Mary A. born in 1856; Maggie born in 1858; Rose born in 1860; James born in 1862; John H. born in 1866; George E. born in 1868; William P. born in 1870; Catherine S. born in 1872; Lallie M. born in 1874; Lizzie L. born in 1876; Frank M. born in 1879. Occupation: Justice of the Peace in the City of Appleton.Taken from The Outagamie County Pioneer Record.

LITE, Edward was born in 1832 and came to this county in 1855 and died in the year 1898. Mrs. Louisa Lite was born in 1837 and came to this county in 1855.Taken from The Outagamie County Pioneer Record.

LEONHARDT, Peter is a native of this state and was born in 1854 Waukesha County; came to Appleton in 1876 and married Elizabeth Bauer in 1885. He opened a dry goods and grocery store on the corner of College Avenue and State street; retired from that business in 1894 and the following year engaged in the wood and coal business on the corner of College Avenue and Cherry Street. Residence, 531 Cherry Street. Children: Frances, April 18, 1882; Alice, February 1887, died in 1895; Hugo, May 8, 1889; died in 1897; Oscar September 18, 1891; Henry, July 12, 1893; Arthur, September 24, 1895.Taken from The Outagamie County Pioneer Record.

LORD, O.G. born in the State of Maine, December 1, 1845 and came to this state in September 1871 and married Clara D. Lougee of Maine in 1870. She died in 1872. His second wife was Mrs. Sarah E. Clark, who he married in 1876. They have one daughter, Laura. Taken from The Outagamie County Pioneer Record.







Home